Introduction
Bean bags are a beloved and versatile addition to home interiors and recreational spaces. They provide a comfortable and flexible seating solution that appeals to people of all ages. But have you ever wondered what's inside a bean bag that makes it so soft and comfy? In this comprehensive guide, we'll delve deep into the anatomy of a bean bag, exploring the core components that make these innovative seats so special.
The Core Components of a Bean Bag 

A typical bean bag comprises two primary components: the outer cover and the filling. Each plays a crucial role in defining the bean bag's comfort, aesthetics, and overall functionality.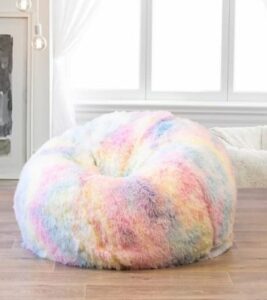 1.1 Outer Cover  
The outer cover of a bean bag serves several important purposes:
What's Inside a Bean Bag?  Protection: It shields the inner filling from dirt, dust, and potential damage, ensuring the bean bag's longevity.
Comfort: The cover material contributes to the overall feel of the bean bag, affecting factors like texture, breathability, and temperature regulation.
Aesthetics: The outer cover is the visible and customizable part of the bean bag, allowing for a wide range of design options to match different interior styles.
Durability: The cover should be robust enough to withstand everyday use and regular cleaning.
Bean bag outer covers come in various materials, including:
Leather: Leather covers provide a luxurious and elegant appearance, often found in premium bean bags.
Fabric: Fabric covers offer a diverse range of colors and patterns, making them suitable for personalized interior design.
Vinyl: Vinyl covers are known for their waterproof and easy-to-clean properties, making them ideal for outdoor use or households with children or pets.
Faux Fur: Faux fur covers create a cozy and opulent texture, adding warmth and comfort to your space.
Polyester: Durable and easy to clean, polyester covers are a popular choice due to their low maintenance and versatility.
1.2 Filling
The filling inside a bean bag is the key to its exceptional comfort and adaptability. Traditionally, bean bags have been filled with small polystyrene beads, but various materials are now used to achieve different textures and densities. The most common filling options are as follows:
Polystyrene Beads: Polystyrene beads, often called EPS beads (expanded polystyrene), are the classic and most popular filling for bean bags. They are lightweight, moldable, and conform to your body's shape, offering unmatched comfort and flexibility.
Shredded Foam: Some bean bags use shredded foam, which provides a more structured, firm, and supportive feel while still allowing for some flexibility. Shredded foam filling offers durability and resilience.
Memory Foam: Memory foam-filled bean bags offer exceptional comfort and support. This viscoelastic material contours to your body, providing a tailored sitting experience. Memory foam is well-regarded for its pressure relief properties and ability to evenly distribute weight.
Microfiber Fill: Microfiber-filled bean bags are known for their softness and plush feel. They create the sensation of sitting on a cloud, making them a top choice for relaxation. Microfiber fillings offer a delicate balance of support and softness.
Each filling material has its own unique properties, affecting the bean bag's comfort, durability, and maintenance. The choice of filling depends on your personal preferences and the intended use of the bean bag.
The Comfort of Bean Bags: What Makes Them So Special
The primary allure of a bean bag is its remarkable comfort. The combination of the outer cover and the filling creates a seating experience that's adaptable and ergonomic. Let's explore the key factors that contribute to the comfort of bean bags.
2.1 Flexibility and Conformity
The filling of a bean bag, especially when filled with polystyrene beads, allows it to conform to your body's shape. This unique property means that a bean bag is not a rigid piece of furniture but rather a flexible, moldable seat that adjusts to your posture. Whether you're sitting, reclining, or lounging, the bean bag provides support where you need it, resulting in a comfortable and customized experience.
2.2 Versatile Seating Positions
What's Inside a Bean Bag?  Traditional chairs and sofas dictate a specific posture, which can be uncomfortable for extended periods. In contrast, bean bags provide the freedom to choose your seating position. You can sit cross-legged, curl up, or stretch out your legs – the bean bag effortlessly accommodates your preferred arrangement. This adaptability is ideal for activities like reading, gaming, or watching movies, as it prevents the strain and discomfort associated with rigid furniture.
2.3 Support and Comfort
The filling material, whether it's polystyrene beads, shredded foam, memory foam, or microfiber, provides a comfortable and supportive sitting experience. It reduces pressure points, allowing you to sit for extended periods without discomfort. The bean bag gently cradles your body, reducing the risk of developing aches and pains associated with prolonged sitting.
2.4 Lightweight and Portable
What's Inside a Bean Bag?  Bean bags are incredibly lightweight and easy to move around, making them a practical seating solution. Whether you want to create a cozy reading nook in your bedroom, a gaming corner in the living room, or an outdoor lounge on your patio, bean bags can be effortlessly repositioned to suit your needs. This portability adds to the convenience and comfort of bean bags.
What Makes a High-Quality Bean Bag
Choosing a high-quality bean bag involves considering several factors beyond the filling and outer cover. Here are some essential criteria to keep in mind:
3.1 Double-Stitched Seams
Strong, double-stitched seams are essential for durability. They prevent the filling from leaking out and ensure that your bean bag retains its shape and comfort over time.
3.2 Childproof Safety Zippers
Many bean bags come with childproof safety zippers, which are designed to be challenging for young children to open. This feature enhances safety by preventing accidental access to the filling.
3.3 Easy Maintenance
The outer cover should be easy to remove and clean. Some bean bag covers are machine washable, while others can be wiped clean with a damp cloth. Easy maintenance ensures your bean bag remains in top condition.
3.4 Filling Compatibility
Ensure that the filling material aligns with your comfort preferences. Polystyrene beads offer flexibility, while foam-based fillings provide more structure and support. Choose the one that suits your needs.
3.5 Warranty
Reputable bean bag manufacturers often offer warranties that cover manufacturing defects and workmanship. A warranty provides peace of mind and reassurance of the product's quality.
Customizing Your Bean Bag
One of the advantages of bean bags is the ability to personalize them to your liking. Many manufacturers and retailers offer customization options for both the outer cover and the filling. Here's how you can make your bean bag truly unique:
4.1 Cover Materials
Choose the cover material that suits your style and practical requirements. Leather and faux leather provide a sophisticated look, while fabric and microfiber offer a wide array of colors and patterns. Vinyl covers are ideal for outdoor use or homes with children or pets.
4.2 Colors and Patterns
Customize the color and pattern of your bean bag cover to match your interior decor or make a bold statement. Some manufacturers even offer custom printing options, allowing you to add your own designs or images.
4.3 Embroidery and Personalization
For a truly one-of-a-kind bean bag, consider embroidery or personalization.